Swipe Technology is Changing the Way the Barter Industry Does Business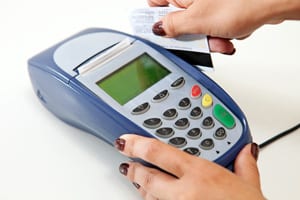 The Barter Company launched its card based swipe trade transaction processing and client barter card program in 2011, which has helped make them the fastest growing trade exchange in the Southeast. The program enables the electronic processing of magnetic stripe cards (Client Barter Cards and Barter Gift Cards) at participating barter exchange merchant locations nationwide using a standard POS merchant terminal for credit card transactions.
Client Barter Cards are issued to clients upon joining The Barter Company and distributed to all active users on the barter account. Traditional POS merchant terminals are enhanced with custom trade software and clients then install the swipe terminals at their restaurant or retail location for simple transaction processing. These newly updated terminals allow for real-time trading and immediate transfer of funds, much like traditional debit transactions.
Cardholders are barter exchange clients processing a buy/sell barter transaction, or consumers that have received barter Gift Cards from TBC clients. These Gift Cards have trade amounts (barter dollars) loaded onto their card for use at participating merchants for shopping at their establishments.  Clients have the capability of buying Gift Cards with their trade dollars and the funds are simply transferred. These gift cards are then usable at select locations within the exchange. This provides clients the ability to give those outside of the membership (their employees, customers, friends, etc.) a means of making purchases with trade dollars. This is often used as a means for members to reward customers and bonus or give employee incentives.
For restaurants, high traffic retail, and service locations, a TBC specific swipe card terminal can be installed that provides the user the experience of a typical "credit card" type transaction.  These terminals are not connected through a merchant provider (no associated merchant fees or batch settlement processes) but have been designed to simply connect directly to TBC's internal system through the internet, conducting a transaction in a simplified and quick functionality.
The goal is to make a trade transaction easy to use and as immediate to process as any online banking, swiping a card, and/or a mobile app transaction. A transaction (or authorization) can now be conducted from any place where the internet can be accessed… even via smart phone.  TBC also offers clients a free mobile app (Trade Studio for The Barter Company) so that trade transactions can be done effortlessly. The app allows users process live and secure transactions directly from their mobile device with activated data service, as well as tools to allow member account management and directory search of members with mapping capabilities linked directly to their device's GPS capabilities.   To download the mobile app, search "Trade Studio for The Barter Company" in your app store.
The Barter Company's swipe technology has made bartering faster and easier than ever. With more than 2,500 clients in the Metro Atlanta area, TBC is a recognized leader in the barter industry. One reason for this is the ability to stay ahead of the curve with the latest and greatest technological advances. For more info, visit www.barterco.com.